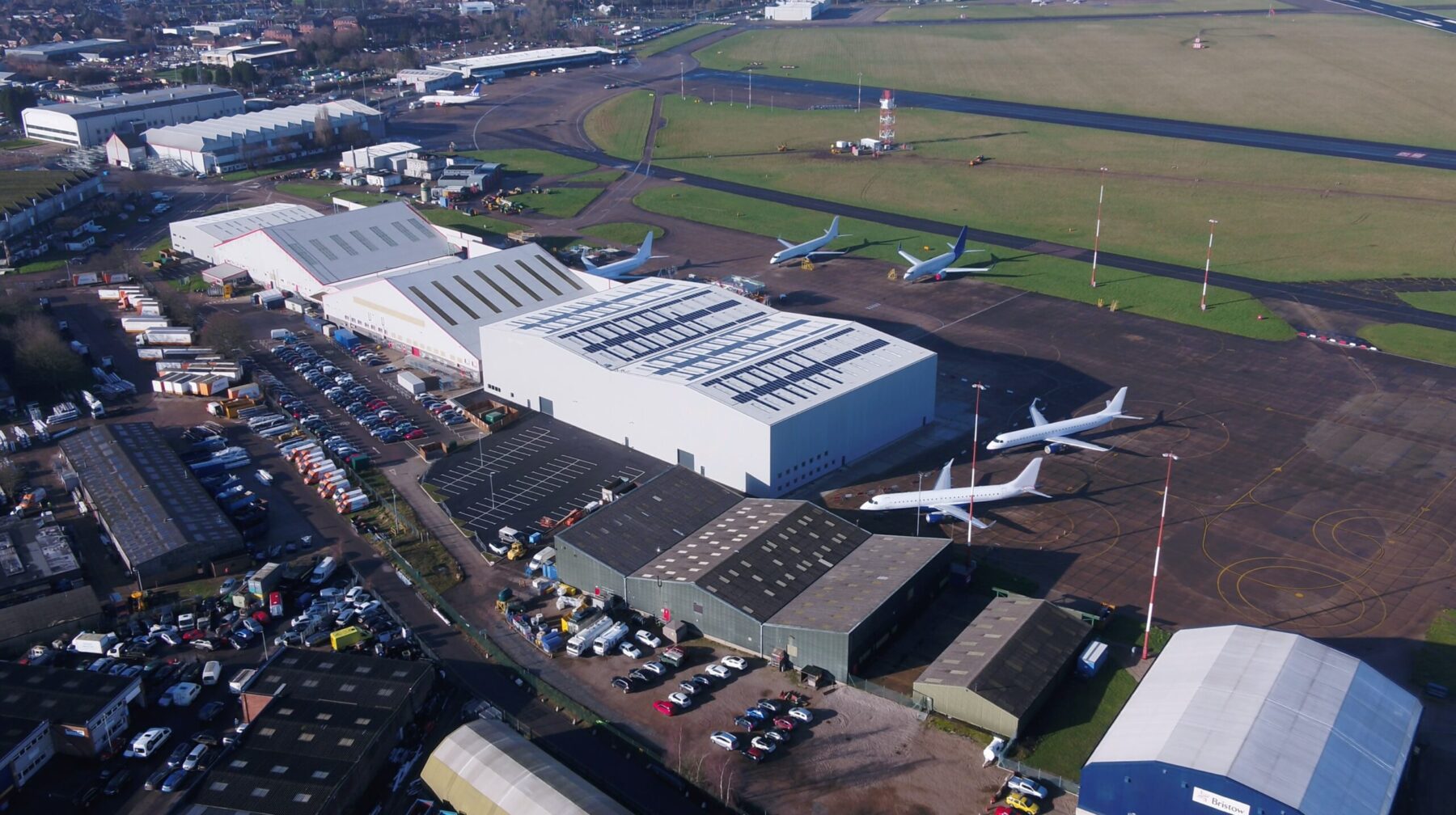 Norwich airport looks to the skies to power new hanger
With the rise of Net Zero cropping up on the agenda more and more, it is always fantastic to hear our members undertake new initiatives to cut there carbon footprint, in this instance, KLM UK Engineering undertaking a new initisolar project at Hangar 9, Norwich Airport.
BeBa Energy UK Ltd has completed the installation of a major solar PV rooftop project for KLM UK Engineering Ltd and Norwich Airport on the new Hangar 9 project, a building which was specifically designed and built to include solar panels.
Many new buildings are still constructed with a solar PV scheme designed and added after completion however, this project fully incorporated the scheme at the design stage, making a much more effective and efficient use of the full roof space.
Hangar 9 will be used by KLM UK Engineering Ltd and this solar PV array will significantly reduce their demand for electricity from National Grid and importantly for the aviation industry their carbon footprint by 52,300kg's per year. Over the life of this system carbon reduction will be the equivalent of planting 33,961 new trees.
Shaun Beattie, Sales Director at BeBa Energy UK Ltd comments: "BeBa were delighted to be chosen to develop, deliver and manage this impressive solar PV project. The aviation industry is under pressure to mitigate the impact it has on the environment and this solar array is a wonderful statement of intent. It's fair to say that when solar PV is incorporated into a new build it's usually a token amount, so it is great to see almost all of the available roof space being used to generate clean power."
The new building will be used to carry out aircraft maintenance by KLM UK Engineering Ltd for a range of airline customers.
Peter van der Horst, Managing Director at KLM UK Engineering Ltd comments: "As a responsible business, KLM UK Engineering Ltd has an obligation to mitigate our impact on the environment so being able to power a significant portion of our new facilities via the solar panels on our roof is wonderful. It will also help drive behavioural change as we will be able to monitor – in real time – the impact the solar system is having on reducing our carbon footprint."
Phil Langley, Operations Director at Norwich Airport comments: "The solar array formed an integral part of the ambitious 'Hangar 9' project, and we were determined to go above and beyond with energy efficiency measures within the building. Like KLM UK Engineering Ltd, we have a significant role to play in supporting sustainable business practices, and we look forward to seeing how the solar array helps the airport and KLM with achieving their sustainability goals."
The new building's 249.90kw 735 panel solar array will generate 226,409 kw/h's, the equivalent electricity for powering 113 two-bedroom homes each year.
A special thanks to BeBa Energy for sharing their images and resources for this article.