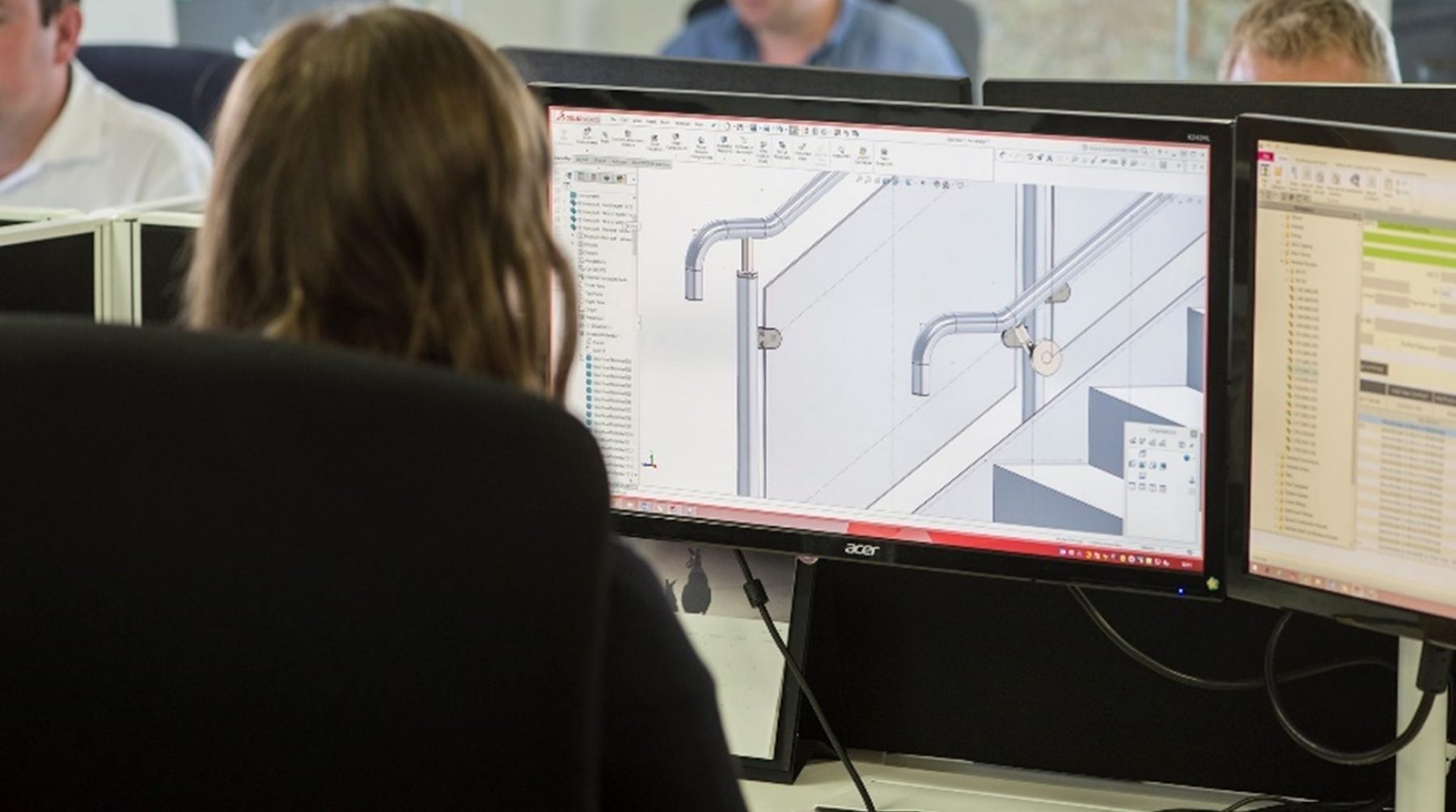 An Insight Into BA Systems
This week, NAAME Project Manager, James was lucky enough to catch-up with Stephen Hynd, Technical Director at BA Systems. The business has diversified throughout the pandemic to provide their very own range of infection control products. Here's what they had to say:
BA Systems Background
BA Systems are a family business based in Norwich in Norfolk and design, manufacture & install balustrades and handrails fabricated from stainless steel, extruded aluminium and Vetobac anti-microbial material. We are a team of just over 30 employees all working together to achieve our goal of 'Building Barriers for safer spaces'. We have a wide range of balustrade products from our B10 to B50 range and support the construction industry predominantly on projects to offer the full design, manufacture and install package.
Industry Diversification
When the pandemic struck in early March, we felt compelled to support communities by introducing our own range of infection control products to keep construction going as sites where to 'remain open where possible'. With our manufacturing capabilities and a slight reduction in workflow due to some sites being closed, we had the capacity to start producing our own protective screens. We offered these to our sites to enhance safety in these areas whilst assisting them to remain open and compliant with government regulations. Later in May, we decided we needed to do something more to support businesses who were looking to remain open but did not have the correct measures in place. Our design team worked on designing an Elite Sanitiser Post that could be used in high end environments such as 5 Star Hotels to assist them in enhancing their environment, whilst also preventing the spread of infection. The Sanitiser Post is unique in that the head of the post was made from an antimicrobial copper alloy that would later become known as VBA99. We offered these to a range of Hotels to support the need to ensure the correct measures were in place for re-opening.
Innovate UK Application
In June 2019, we contacted Innovate UK who were offering 50k of funding support to stimulate innovation for projects that would boost the economy. Having done a lot of market research and studies around antimicrobial copper alloys back in 2014 and understood how it can play a pivotal role in healthcare environments following the installation of Copper touch surfaces at Boston Hospital. We felt the pandemic should awaken the need for antimicrobial touch surfaces, so we decided to relaunch the project, placing more emphasis now on controlling the spread of infection. Our Technical Director Stephen Hynd worked on a proposal that we could submit to innovate UK to justify use of the funds for our Vetobac Products, soon to find out we had been approved for the grant! This was excellent news for the business as we could then go on to develop our products with the funds available to support the push to Market and it also allowed us to get University Testing on the Metal to prove its effectiveness. The Metal is referred to as VBA99 and can be used for a variety of applications, predominantly we are promoting our handrail range, but we will be looking at other applications in the future including Grab Rails and Door Hardware. We have not received the full results from the University Testing, but Interim results so far have been very favourable, proving VBA99 to kill nearly all bacteria and viruses within 10 minutes of contact and 100% in an hour. We have obtained some impressive results so far and we are looking forward to receiving the full report from the University of Southampton soon!
Lessons Learnt During The Pandemic
For BA Systems, the pandemic has proven the need to diversify and adapt quickly! As a result of the teams proactiveness and adaption to change, we were able to offer a range of products we had never sold before, to new markets and within a short space of time, whilst also supporting local businesses and construction sites to remain open to keep the economy going. As we continue to innovate and develop our range of Vetobac products, we will soon be able to offer VBA99 for not only handrails but for a variety of other applications.
Got a story to share?
Are you interested in finding out more about NAAME, our regional manufacturing groups & the Talent Sharing Platform? Would you like to be featured in our 'Insight Into' series? Then please register for your membership below and James Williamson will be in touch to arrange a call!